David Lieber, Co-Athletic Director at Friends, has decided to step down as Head Boys Varsity Basketball Coach after thirty-three years.
Lieber started coaching at Friends when he was 28 years old. He feels that he has matured as a person, as well as a coach, since the start of his career. "I believe I have a much better perspective of what makes a team successful than I did then," he explained. "When I first started, I felt you defined your success by winning and losing… but now I feel like striving to win is the most important thing, and trying your best."
Lieber has had many memorable experiences as head coach. He has had 19 teams go to the New York State Association of Independent Schools (NYSAIS) tournament, four to the championship, and two of them bringing home the chip. He also recalled the trips that the team used to take to places such as Arizona, California, and Florida. Additionally, Lieber said that his most memorable teams were the ones in 2006-2007, and 2018-2020, along with both his first and last teams, as they mark the endpoints of his career.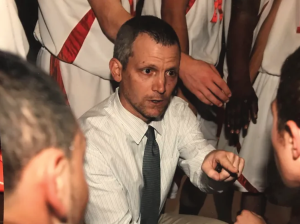 On February 7, many of his alumni players and parents came to support him. He felt that this moment was "magical," and emphasized how important staying in touch with his alumni is. "It says a lot about the program," Lieber said. But it says much more about him as a coach.
When asked to reflect on his final season, Lieber pointed out that it was one filled with intense injuries and finishes; maybe more than any other season he has had. He noted the team's excellent chemistry, and the lack of boring games. "The entire season was significant," he said. When asked about the intense season, Lieber responded that "It is a good time to retire, because it's not good for my heart."
David Lieber's career as Head Boys Varsity Basketball Coach was filled with many ups and downs, but the memories and relationships remain special. The team will definitely miss him next year. In the coming years, the Friends community hopes to see him sitting on the bleachers bringing the same enthusiasm as he did from the bench.