Assembly Speaker Series Replaces Day of Concern
Friends Seminary's Day of Concern is just the latest in a series of COVID-19 casualties. Day of Concern is when classes are canceled and students dedicate their time to service learning. Due to the surge of Omicron cases in late December, the Center for Peace, Equity and Justice team could not bring in fourteen to sixteen guests from around the country into Friends Seminary all at once. Instead, they were forced to shift their meticulously planned day of workshops, keynote speakers, and inclusive discussions to a speaker series.
The Day of Concern has always been themed in coordination with Peace Week at Friends Seminary. That tradition is continuing this year with the speaker series. The theme of 2022's Peace Week was examining Quaker testimonies, and the speaker series will focus on reflecting those testimonies in life. Leitzel Schoen, Assistant Head of School for Co-Curricular Programs, explained, "A big component of Quaker testimonies is letting your life speak. Core values are more than words but through your life's actions you live out those values." Schoen continued, "The speaker series allows us to be exposed to amazing people who are living out their core values." 
Although students will be losing the interactive, hands-on learning experience of Day of Concern, they will still hear from inspiring guest speakers from numerous different backgrounds and fields. Annah Heckman, Associate for Service Learning and Civic Engagement, and Sahana Mehta, Associate for Diversity, Equity and Belonging discussed some of our guest speakers. Our kick off speaker, Dr. Simran Jeet Singh, has a background in the interfaith and philanthropic world. "He did a great job introducing what it means to live a value-based life," Mehta noted.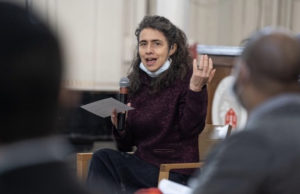 Heckman explained that Dr. Rev. Chloe Breyer, Rabbi Josh Stanton, Kujegi Camara and Aacharya Vijah Ramjattan facilitated a discussion about letting your life speak in various faith traditions, examining Quaker testimonies mirrored in other faith traditions. The school also heard from Masha Zabara and Jillian Reed, the co-founders of Thrift 2 Fight, an organization selling used clothing to raise money to combat systemic racism. Legacy Russel, a future speaker, is the author of Glitch Feminism and Black Meme and founder of The Kitchen. 
Kirsti Peters, Head of Diversity, Equity, and Belonging spoke about a future speaker from HealHaus, a black-owned healing center in Brooklyn. "Shirin Eskandi, a certified life coach, discuss[ed] ways to center ourselves and our mental health in a climate where so many things are out of our hands, and let our lives speak in the way that we take care of ourselves," Peters said.  
Students will have not only assembly periods to hear from these speakers, but also lunch discussions and evening Zoom meetings. Among those guests are Meera Shah, author of "You're the Only One I've Told: The Stories Behind Abortion" and Chief Medical Officer at Planned Parenthood Hudson Peconic, and Divya Sooryakumar, Associate Director of the VIVA Girls Program at MADRE, a program that combats gender violence.
The CPEJ team is excited to present the speaker series, though they hope that Day of Concern will return next year. Schoen added, "The speaker series is an adaptation of the Day of Concern, but it isn't a replacement."