Senior Captains Reflect on Boys' Varsity Soccer Season
The Friends Seminary Boys' Varsity Soccer Team completed their season with eleven wins and three losses, making it all the way to the semi-finals. This was the first soccer season since the pandemic, and the Owls made Friends Seminary proud.
Coach Warren Salandy and the team's five senior captains reflected on their experiences.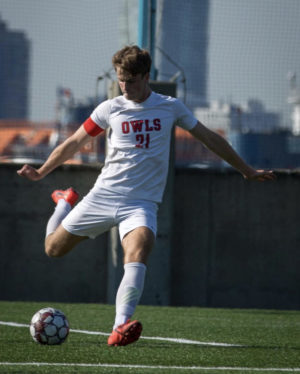 Andrew Tart '22 said that his role as a captain has helped him grow as a player. "Being captain has helped me build stronger connections with my teammates on and off the field. It has also allowed me to have more confidence in my abilities as a player, knowing that my teammates will be ready to defend or attack with me." Graham Hall '22, also reflected on his personal growth this season. "Captaining this team has helped me to become a better role model for the younger players on the team," said Hall. Coach Salandy expressed his appreciation for the team this year, saying that he was most proud of how the upperclassmen encouraged the younger players.
The responsibility of leading a large team of twenty-four players has taught the captains many necessary leadership skills. Joshua Feld '22 said, "I've learned to sense the team's strengths and weaknesses, and how to use them in our favor on the field." James Tart '22 stated, "good practices are important for good games, and I've learned to bring my best self to every practice and game." Coach Warren Salandy observed, "each team captain came with their own personalities and qualities which complemented each other well." 
Both Feld and Andrew Tart agreed that their 2-0 win against Dwight School was a big accomplishment for the Owls. Andrew Tart recalled, "The team played in unison throughout the entire game, and we had each other's backs in the times of tension." In Feld's opinion, "[the game] was a great display of our will as a team to win."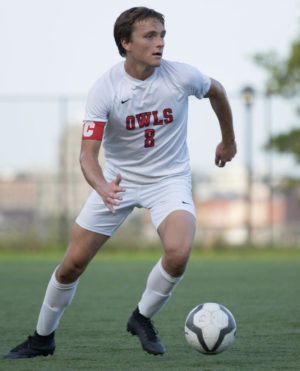 James Tart acknowledged the value of winning games early in the season, "I was most proud of how we played against Calhoun. It was our first game and we proved that we were a team to be reckoned with." 
Andre Caiola '22 explained the excitement of being able to compete after one year without school soccer. "Since we didn't get to compete last year, it was great to watch this group of boys come together and play as a team." Salandy appreciated "the drive and the passion of the boys throughout the season." 
Finally, Salandy described his own joy and gratitude after coaching the team. He thanked his players for, in his words, "giving me the opportunity to be part of their soccer experience here at Friends. It was amazing seeing these players grow not only as athletes, but also as people.