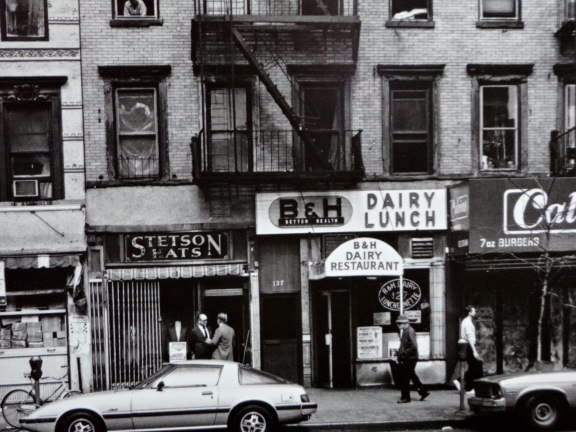 B&H Dairy is a Kosher diner located on Second Avenue between St. Marks place and East Seventh Street. It was founded in 1938 by two Jewish Ukrainian immigrants, Abie Bergson and Jack Heller, who aimed to serve the vast, quickly growing Jewish community in the East Village. In the 1940s, Second Avenue was called Yiddish Broadway and was filled with bustling Jewish theaters, so one can imagine how much traffic the restaurant would have gotten. As a result, the diner quickly became a staple in the neighborhood and a trusted source for high quality, delicious Kosher food. Throughout the decades, B&H has maintained its commitment to traditional Jewish values and Kosher laws (pork and shellfish are forbidden, and meat, which B&H does not serve, may not be served with dairy, just to name a few rules), earning a reputation as one of the most authentic Kosher delis in the city.
From a conversation with the owner, I learned that B&H has been under different ownership since 2003, when Fawzy Abdelwahed and his wife Ola bought it long after the restaurant's glory days had faded and its original population of customers left the neighborhood. Fawzy and Ola stepped in while B&H was hanging on by a thread and turned it back into a thriving restaurant. Although Fawzy is an Egyptian Muslim and Ola a Polish Catholic, they still maintain the Kosher practices established when the restaurant opened 85 years ago. The restaurant now hosts NYU students, a broader population of Jewish food lovers, and observant Kosher eaters from all over the city. B&H serves diner classics like omelets and veggie burgers, as well as traditional Kosher dishes such as potato knishes, latkes, whitefish, lox, and kasha varnishkes (an egg noodle dish invented by Ashkanazi Jews in New York). In addition to Kosher food, they also serve traditional Eastern European dishes, like pierogies and borscht. Most importantly, B&H is known for its challah, which is always homemade fresh.
Fawzy and Ola have faced many challenges throughout their 20 years of leadership, including a gas explosion in 2015, which forced them to shut down for months. Of course, COVID-19 was especially difficult for B&H, as most of the food they serve is meant to be enjoyed right after it is made. Despite these issues, coupled with ever-rising rents, B&H still thrives under the ownership of Fawzy and Ola and carries on the tradition of producing delicious and hearty food.