Community members reflect on quarantine
Members of the Friends Seminary community sacrificed activities and hobbies when COVID-19 forced the city into a shutdown. Athletic seasons were canceled, traveling was halted, and performing arts were severely altered, to name a few cancellations. As the first semester ends, it is worth reflecting on what a survey sent to the Upper School revealed about students' activities in quarantine. 
Activism and Political Advocacy
Students recognized the pandemic as a vital time to advocate and volunteer. Bukky Olugbeko '21 worked for a food distribution center, sorting and supplying food to over 400 families across Brooklyn and the Bronx. Ella Isgar '21 and Abby Berman '23 both took to the internet to help others. Isgar designed a website specifically catered to getting students involved in social justice work. Berman released a Facebook series called "Let's Talk Climate," through her synagogue, aiming to educate and motivate people around the issue of climate change and the recent election. Ben Shapiro '23 also focused on the election. He interned for a local politician – organizing events, taking notes during briefings, and campaigning for other local legislators. 
Getting Outside
Community members spent lockdown looking for creative ways to get outside and move around. Adrienne Almieda, the school librarian, played Pokemon Go with her mother and her daughter, saying that it helped bring the three generations together. She reported that students in the Friends community even reactivated their old accounts to trade pokemon with her and help her reach Level 40. Meanwhile, Bram Hubbell, an upper school history teacher, achieved a different goal: walking the entire perimeter of Manhattan – a 33-mile trek known as The Great Saunter. He said his journey reminded him why it's worth walking in New York City – especially in areas that are greener and less urban, like the path between the George Washington Bridge and the northern tip of Manhattan.
Baking and Cooking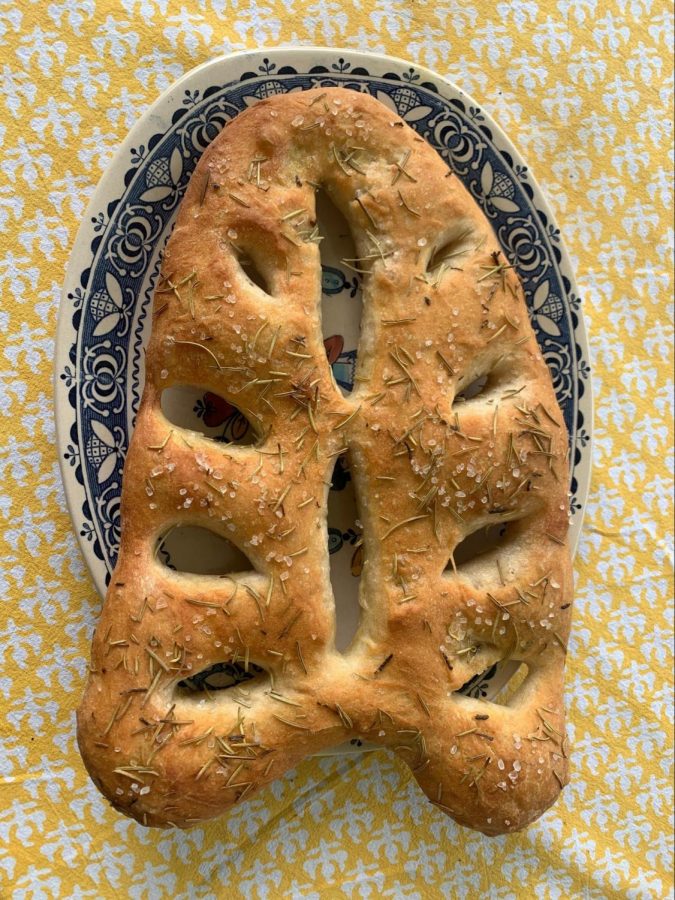 Indoors, students discovered how fulfilling it can be to cook and bake. Ananya Modi '21 focused on making sauces and dips, reporting that her favorite dishes to make (and taste) were tofu teriyaki, spicy Thai ramen, and crispy sticky cauliflower rice. Lila Safer-Bakal '24 dedicated her time to breadmaking. Her favorite bread to make is fougasse, and her go-to recipe source is Cooks Illustrated. Juliette Propp '23, Elena Leeds '22, and Theo Maniatis '24 all reported that they baked too.
Learning New Skills 
Other students spent their time learning new skills or developing existing talents. Sophia Buten '21 water-skied over the summer; Graham Hall '22 spent his time playing basketball. Maisie Flippin '24 taught herself how to play ukulele. Deborah Ogunrinde '23 began learning Japanese using the "Kanji Teacher App," "Realkana," and "Kana Drill." She said she wanted to learn the language because she would like to visit Japan one day and hopes to watch anime without subtitles. Anja Kottman '21 spent her time learning how to skateboard with her younger brother, and embroidering photos of nature and of her study abroad experience in Jordan last year. 
Making Art 
Students explored their artistic side during quarantine. Lucy Kassel '21 set up a dark room in her bathroom after researching and collecting all the necessary materials and chemicals. No longer dependent on stores to develop her photographs, she has been taking more pictures than before. She also built a chicken coop with her dad and raised her own chickens. Mia Gigante '21 taught herself how to crochet from YouTube videos. Nico Lang '24 and Kristen Marchilena, performing arts teacher, have both been working on recording and editing music. Nico, who is writing and performing his own songs, says he draws inspiration from Taylor Swift, Ed Sheeran, and Shawn Mendes.