Pandemic moves Varsity Swim season online, cancels competitions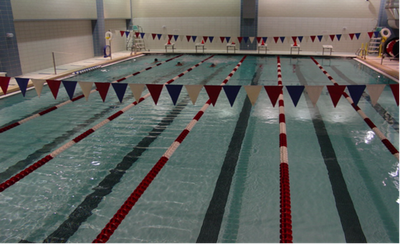 The Varsity Swim teams had an entirely virtual season this year without in-person workouts, pool time, or meets.
In regular years the boys and girls swim teams practice together at the Baruch College Athletic & Recreation Complex and compete in interscholastic competitions, but restrictions posed by the pandemic made in-person practices and competitions impossible this year. In the absence of pool time and interscholastic competition, the Varsity Swim Teams dedicated their season to honing physical fitness and boosting team morale.
Cat Guerriere, Chair of the Physical Education Department and Varsity Swim Team Coach, said the season's revised schedule brought challenges, citing the lack of team-building opportunities and remote workouts. Guerriere said that online practices focused on building swim technique by watching professional swimmers and completing workouts that targeted core, upper body, and lower body strength. "It's really important to isolate those muscles with workouts that target swimmers," Guerriere said.
In addition to muscle and technique-building exercises, Guerriere implemented nontraditional activities to boost morale and fitness. "There was a variation on meditation" at the end of practices, she said. Additionally, the team played Kahoot games, which Guerriere said: "hopefully [brought about] some competition."
Guerriere ultimately focused the team's workouts on building strength and skill for next season. She said she hopes to see "returning swimmers that are motivated and excited to be able to swim again," and that athletes will remain "interested, knowing that [the team] will hopefully get to a place where they are in the pool next winter."
Boy's team captain and four-year swim team veteran Michael Flynn '21 reflected on the difficulties brought about by virtual workouts, saying that virtual workouts couldn't offer as much as practices in the pool could.
"Swimming is a full-body workout and it requires one hundred percent of your strength ninety percent of the time. Working specific muscle groups in an online workout is not the same," Flynn said.
Flynn still said that he was impressed by the team's commitment while practice was virtual. He praised "freshmen, [who] are going to be really committed to the team going forward because they were able to stick it out throughout the entire season by showing up to every single practice."
Flynn had advice for these returning swimmers. "Stay committed and work hard," he said. "If you feel tired at the end of practice, then you did good work."