Pandemic protocol limits highly anticipated Varsity Boys Basketball season
The Varsity Boys Basketball team's practices were severely restricted and intramural games were cancelled this winter due to COVID-19 restrictions, disappointing graduating seniors and community members hopeful for the team's continued success.   
The first weeks of the basketball season were completely virtual on Zoom, with the team following workout videos and playing NBA trivia. The first in-person practice was held on Jan. 18, almost halfway through the season, with restrictions that made scrimmage and typical play impossible.
David Lieber, Friends Athletic Director and Varsity Basketball coach, explained the difficulties of these in-person practices, saying that the hardest challenge was staying socially distant and finding effective ways to practice under the new guidelines. "Most of our drills are shooting drills, running drills," he said. "So we're getting a good workout, but it's just not a typical practice, as far as we're not scrimmaging, we're not playing any defense, we're not rebounding. We're not doing a lot of the things we normally do." 
Even under these strange circumstances, Lieber said the team handled their practices well. "The [team] morale has been really great, the practices have been intense," Lieber said. "I think that's one of the reasons why we've been a good team, because the guys buy into just doing whatever we do to the best of the ability they can." He added that he thinks the team will have a strong start next season.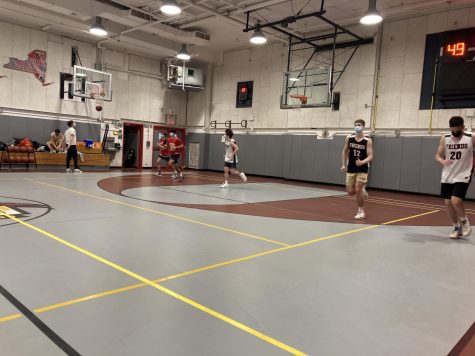 Team member James Tart '22 agreed that the team played well."We truly made the most of our practices and remained competitive to the end," he said. 
Missing this season was particularly painful for the team after coming off a 23-6 season that ended with winning the 2019-2020 NYSAIS title. Many seniors, like Marcus Shaw, also lost their last year of basketball at Friends to the pandemic. "I was truly upset that the season was cancelled due to the pandemic, especially because we had a lot of players who played significant minutes in that championship run returning to the team this year," Shaw said.
Tart felt the loss as well, conveying how disappointed he was to lose the season, as well as expressing his sympathy for his teammates. "We have very talented seniors on the team and the fact that they lost their last season is heartbreaking." Tart added, however, that he learned to appreciate any time on the court in spite of these losses."Being able to practice was a privilege this year and I think we all made the most of it," he said.
Although seniors lost much of their final season, they were still honored during a Zoom Senior Night, an annual tradition that was held virtually this year for the team to pay tribute to their oldest members.
Lieber, who was recently inducted into the New York State Basketball Hall of Fame after coaching basketball for 31 years, reflected on his love of the game after this strange season. "It's a good reminder of how much I love it," he said. "Sometimes I get tired during the season and I think maybe I should stop coaching. And then when you're not able to coach, you realize how much you miss it and love it."