Students react to spikes in NYC COVID cases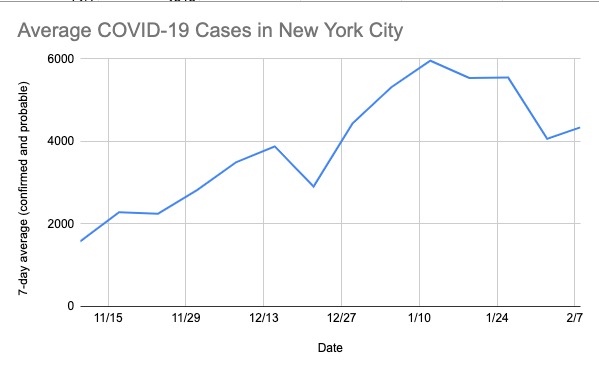 For the past 5 months, Friends students have been widely affected by the second COVID spike in NYC. At the beginning of October 2020, New York City's COVID positivity rate began to increase significantly for the second time. After a summer of average seven-day positivity rates under 1000, October 29th marked the Big Apple's first day with more than 1000 new cases. Since then, seven-day averages rates have surged up to 7,252 cases, as of mid-January. A spike in the new year marked both the most weekly cases of the second wave and the start of a downward trend. However, during this slight decline, cases have still been high – with 5,105 new positives yesterday – and case numbers seem as daunting as they were in pandemics' first spike in March.
This abrupt spike was "very terrifying, like living in an apocalyptic horror movie,"  said Sophie Parr '22. "I feel less obligated to go to school in person because of the current situation, and the risk of this spike and exposure doesn't seem worth it." 
According to other students of Friends Seminary, the second spike has not only become a nuisance in their social life, but a complication to their academic, social, and athletic lives. "The lack of in-person school has made it harder to learn new concepts, [and there are no] everyday social interaction," said Lucas Nelson '23. "Basketball season was supposed to start around the start of this second spike, obviously it has been delayed, which is an annoyance to a student-athlete here at Friends."
The cancellation of sports has limited the number of social opportunities available for students. Marcus Shaw '21, captain of the Men's Varsity Basketball team, shared Nelson's disappointments. "I've continued to practice and try to find smaller spaces to work on my craft, but with the spike of cases and strict contract tracing protocols, I've actually spent significantly less time playing than I normally would," he said. 
Maximilian Liste '22 is another student at Friends who feels as though the pandemic has damaged his academic life. "I've just been really bored, and I feel like my attentiveness in online classes slowly drops after every day," he said. Liste, a once-proud member of the Friends Seminary swim team, can no longer go to a community recreation center to swim laps. He expressed his regret for not fully appreciating life pre-pandemic: "I didn't appreciate normal school days as much as I should have." 
Ahden Islam '22, a lifelong friend of Liste, similarly expressed his appreciation of the increase of in-person academic programming at Friends. "I understand the risk of going into school and I understand there is this second wave as well, but more in-person school is what I want the most." Though he acknowledges that his wish is hard to realize, Islam applauds Friends Seminary for their actions to ensure student safety. "I think the school still does a good job maintaining the protocols and doing what is safe and not what is unrealistic," he said. 
As a handful of students express their feelings of disappointment the challenges of the second wave, the Friends community will continue to adapt to a difficult year.