Clubs adapt to online learning
The pandemic has prevented clubs from conducting in-person gatherings and made building connections with students more difficult. Despite these challenges, some clubs have found ways to adapt. 
Food for Thought Club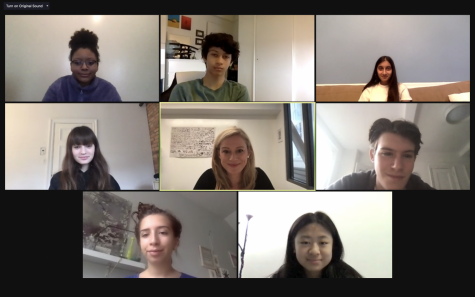 Food for Thought Club, led by Imogen Frazier '21, and Benjamin Gerschwer '21, aims to raise awareness about issues surrounding food sovereignty and hunger by learning new recipes and cooking techniques. To add a service component to their work, the club cooks meals for the Friends Shelter. 
Now, with the pandemic, these activities prove to be more difficult.
"There are a lot of volunteer opportunities that we have mailed out to people this year," Frazier said. "But we can't really organize to do them as a group which is different."
Frazier explained that it has been challenging to connect with club members and try difficult recipes together over Zoom."Earlier in the year we were cooking over Zoom, everyone at the same time, and I think it was a lot more difficult to manage because people do things at different times," Frazier said. "Especially when you can't really see what each other are doing, it's hard to follow along." 
As the club has struggled, participation has fallen. "There's a lot fewer members because I think people got excited about us bringing pancakes and stuff like that," Frazier said.
Nonetheless, the club leaders have worked hard to achieve and adapt to their goals. Responding to feedback, they have spent club periods watching short videos or documentaries and discussing them as a group. To address the pitfall of online group work, they have left the cooking to out-of-club hours. Each week the club leaders introduce food from a new culture and members share their experiences cooking. They hope to facilitate lunch discussions to pave the way for more community dialogue. 
"Our big hope is to really be able to connect with [club members] more, and to actually work together," Gerschwer said. 
Spirit Club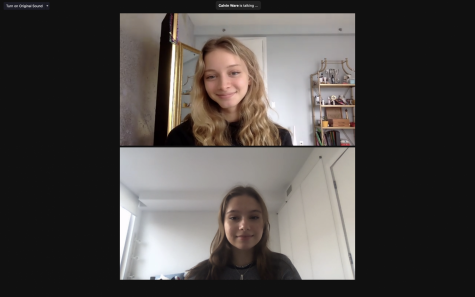 Spirit Club, led by Tilly Danese '21 and Liz Strickland '21, aims to unite the student body and faculty through school-wide events and activities. 
"We just try and embrace school spirit and community so we organize different events,"  Danese said. 
Virtual learning has not affected Spirit Club's meeting times, but it has impacted the school spirit that builds their club. The club is responsible for organizing interactive school-wide activities like Spirit Day. Virtual learning prevents them from organizing these events."It's definitely a lot harder to get people enthusiastic about Friends and just really excited to be a part of this community," Strickland said.
In previous years, the Spirit Club created fan buses for basketball games and events.  As these activities are no longer possible, Strickland said that the club is focusing more on birthdays, which they announce during the Upper School Meeting for Announcements period. 
Virtual learning has also forced the Spirit Club to convert their previous traditions and planned activities to the online platform. Strickland said that keeping students engaged on Zoom has been a challenge. "I think it's a lot harder to get people engaged. Both because people are not motivated and because no one wants to participate over Zoom, so that's been very difficult," Strickland said. 
Despite being unable to host any school-wide in-person events, the leaders of Spirit Club have sought different approaches to connect the school community. "As the year progresses, we are going to see if we can have something on Zoom, or have a day where people wear red to classes," Strickland said.
Danese said she also helped Erin Mumford, the Dean of Student Life, decorate the school for Halloween and the winter season. "On Halloween we want[ed] people to dress up in costumes. We organize[d] a theme week to bring people together," she said. 
RAAD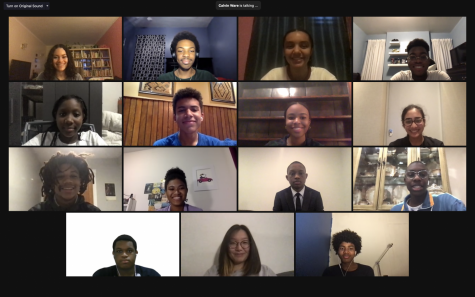 Raising Awareness Advocating for Diversity (RAAD) is a club led by Nylu Bernshtayn '23 and Bryson Brunson '21. The club strives to spread awareness about diversity among all students at Friends Seminary. 
"It's kind of like the intersection between all of the culture clubs," said Bernshtayn.
RAAD is connected with Friends Seminary's Center for Peace Equity and Justice (CPEJ) department, working closely with Jason Craige Harris, Leitzel Schoen, and Kimby Heil. The club makes an effort to schedule school-wide discussions, organize events, and create a more inclusive environment for students. 
RAAD strives to shed light on many communities and focuses on advocating for diversity at Friends. Over Thanksgiving assembly when the community sang Lift Every Voice and Sing, Brunson and Bernshtayn decided to educate students on its history and meaning. "We made a video talking about the historical significance of the song, and why it's important to Black people and people of color and how we need to be more mindful about the meaning of it," Brunson said. 
Under normal circumstances, the club usually meets around twice a week. During the pandemic the club has switched to hosting meetings after school with less frequency. Brunson said that with a fully online schedule, RAAD is challenged to schedule meetings while also being mindful of the amount of screen time club member's already have in their daily lives. 
Bernshtayn said that another difficulty of leading a club online is preserving enthusiasm and encouragement for its members. "I feel like RAAD had such a sense of community. People would just throw things out or just say something. Now everyone's just silent," Bernshtayn said. 
Additionally, Bernshtayn said being online creates additional challenges of coming up with new topics of discussion and new activities suited to Zoom. "But ultimately, you know it's hard but it's hard for a reason, because it's good work that needs to be done," Brunson said. 
While it is challenging to adapt to online learning, RAAD continues to have virtual discussions and find new ways to unite the club and get the members more involved. "I wanna make more of a commitment, to being a bit better about regularly scheduling things, it's been a little crazy with COVID and college stuff," Brunson said.
Brunson said the club's ultimate goal is to bring back a strong sense of community and get people excited about their work. "I want to collaborate with other groups and do more things together because ultimately it's about that community aspect, and not just within each isolated club but with the larger school scale," Brunson said.